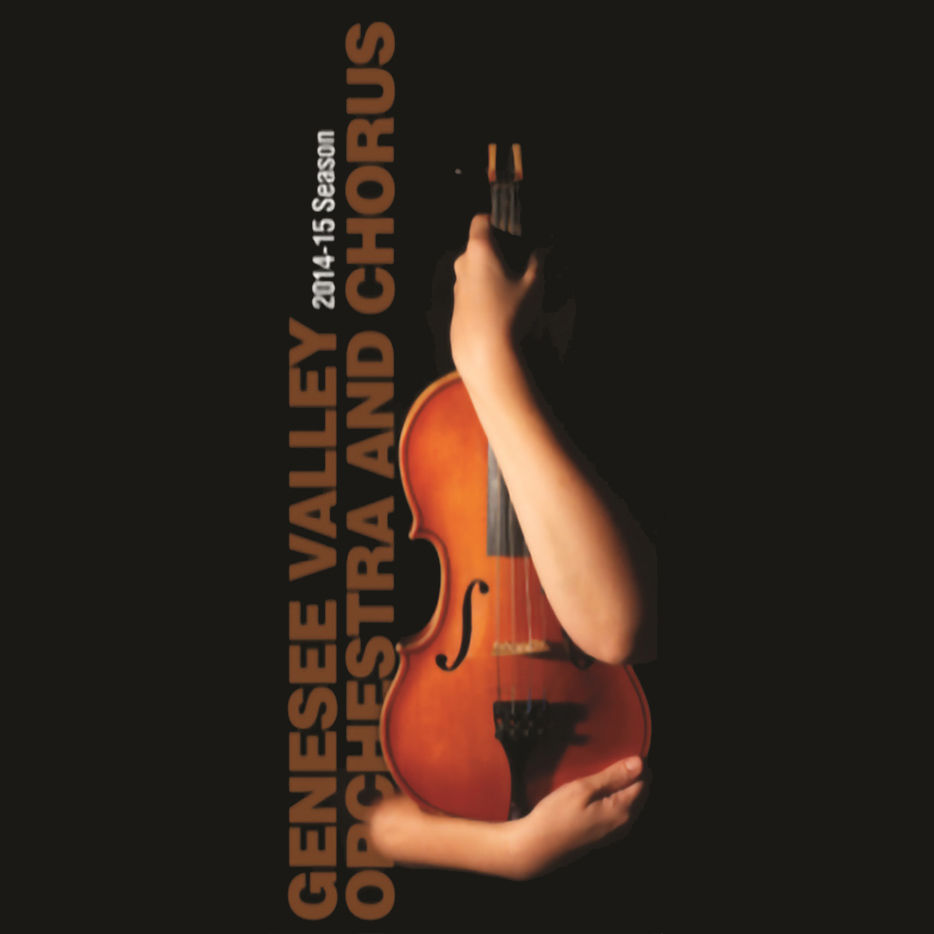 Last season we said a fond farewell to our interim director, Edward Schell, who is retiring from RIT in a few months and is looking forward to other challenges. We are grateful that he chose to spend these last few years with GVOC.
This season is an exciting time for all as we welcome our new, permanent conductor, Christopher Petit. Originally from Ohio, Chris recently graduated from Eastman with a Doctor of Musical Arts Degree in Organ Performance and Literature. Aside from being GVOC's new conductor, Chris teaches at Eastman and also the Minister of Music at St. Paul's Church in Pittsford.
Chris has worked very hard this summer to come up iwth thress musical programs that you will find inspiring and, in the case of our dinner concert, nostalgic. You're not going to want to miss this wonderful, musical year so get your season tickets now since it's definitely a good buy as you save money over purchasing individual tickets and lock in the dinner concert price (we were told the dinner might increase in price after the first of the year). I know that if I don't subscribe to different things, it's so easy to forget about going. Treat youself and subscribe now. You'll be glad you did.
We in GVOC look forward to having you join us for Chris's inaugural season with us.
Mary Anne Guariglia, President
GVOC Board of Directors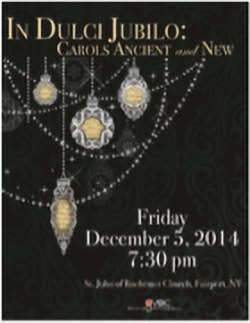 In Dulci Jubilo

Carols Ancient and New

Celebrate the holidays with inspiring music from the 1600's to the present. "A Musicological Journey through the Twelve Days of Chrismas" will delight the mind and rouse the body to stomp and clap, particularly with the interweaving of holiday text with Tchaihovsky's Nutcracker and Sousa's Stars and Stripes Forever! Hear familiar carols beautifully arranged by living composers, and experience a spiritual transcendence induced by the worshipful settings of Sir John Tavener.

Traditional carols and music by Georg Philipp Telemann, Craig Courtney, Robert Kyr, Sir John Tavener, and Michael Praetorius.

Dec. 5, 2014, 7:30 p.m. at St. John of Rochester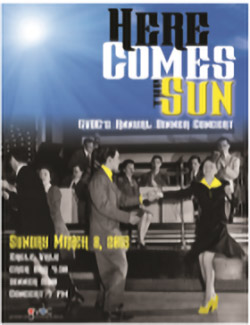 Here Comes The Sun

GVOC's Annual Dinner Concert

"Here Comes the Sun", a Musical Tribute to Daylight Savings Time. Although we lose and hour of sleep on the day of our dinner concert, the extra hour of sun gives us hope for the coming spring. President Franklin Roosevelt instituted "war time" in the United States in order to saev energy for the demands of World War II. Come share with us the songs that gave comfort and hope during World War II, such as "Boogie Woogle Bugle Boy", "Sentimental Journey", and "You'd Be So Nice to Come Home To", along with more recent tunes that celerbate the war, such as the Beatles' "Here Comes The Sun" and Elton John's "Don't Let the Sun Go Down On Me".

March 8, 2015, 4:30 p.m. at Eagle Vale Golf Club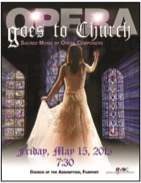 Opera Goes To Church

Sacred Music By Opera Composers

If not for the sacred text, one would assume that the music on this program were written for the Met! Known mostly as opera composers, Puccini and Bizet, for example, wrote stunning music for church, and they did not hold back for the occasion. Come be thrilled by virtuosic arias and rousing choruses that were surprisingly written for worship! Music by Rossini, Bellini, Puccini, Verdi, Mascagni, Bizet, and Massenet.

May 15, 2015, 7:30 p.m. at Church of the Assumption
Past Seasons